Club Highlight: Science Olympiad
Science Olympiad is a team competition in which students compete in 23 events pertaining to various fields of science, including biology, chemistry, physics and earth science. It is an international organization devoted to improving the quality of science education and increasing students' interest in science. These goals are accomplished through regional, state and national tournaments. Science Olympiad tournaments are rigorous academic competitions that consist of a series of team events, which students prepare for during the year. 
Science Olympiad is a club opened for anyone who has an interest or passion for science. Throughout the year, members prepare for their events and participate in the mock competition to get some practice and gain experience in order to be prepared for regionals.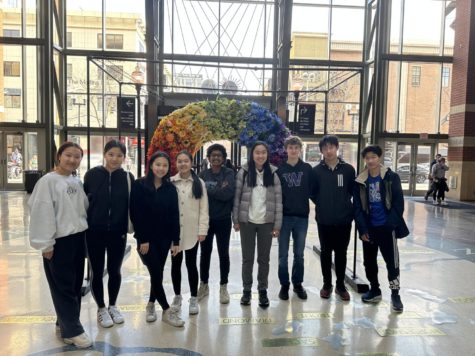 Joohye, a senior who's also serving as co-president of Scioly (an affectionate nickname for Science Olympiad), said that she really enjoyed sciences and wanted something to occupy her time during online school and that's the reason why she joined her freshman year of high school.
Mayee Sun, a senior who placed 5th place in State for Wifi lab last year with her partner Joohye, has joined Science Olympiad since her freshman year. She said, "It's one of the most fulfilling clubs I've been in. I had tons of fun learning various science topics through their numerous competitive testing, building, and lab events. Through Scioly, I've learned how to grow as a leader, persevere through challenges, and explore my passion for science." This year she has participated in new events such as detective device, which is a build event where you build a device that would measure the voltage according to the mass of the object. She placed second in regionals! 
This year, Union's Science Olympiad team have proven their efforts as they placed for state at regionals along with placing top 5 for multiple individual events. Last month, thirteen students (Michelle, Xintong, Mayee, Joohye, Christine, Pavan, Joseph, Brian, Bianca, Abi, Charlie, Andrew, Andrea) competed at the state competition in Spokane. With all the hard work put into preparing for the competition, Union ended up placing first in an individual event! If you are ever interested in joining Scioly next school year, feel free to sign up at the club fair or contact the advisor for more information.