Running to Districts and Sprinting to Regionals
The cross country season has been incredibly successful. Being one of the underrated sports, the cross-country team doesn't get much attention. However, with the success of this season, they've been flaunting their talents.
Coach Haywood, one of the cross country coaches, praised the team, "The team has functioned overall I'd say pretty well. There have been moments, where you know, we had some doubt. But, I think we know that we're the ones." His praise held strong, "I think we've done pretty solid as a team. As a unit. We are solidified – we're good at this." The team is a tight-knit group. During the races, you can see them cheering each other on and starting cheers before races. "I know that for sure we can make it out of districts." And they did, half of the team made it to regionals and the other half will cheer them on.
Team member Charlotte said, "I would say it's gone pretty good. I'm looking forward to regionals. I think we'll do really good as a team." She further elaborated, "I'm feeling good about [the meet]. The weather is like a nice change from what it has been and I feel like this season is in a good spot right now." Later at the district meet, on the top of an incredibly steep hill, the varsity girl's team cheered for the JV girls and boys. The whole season had been incredibly hot and dry. The cross country team had practiced even in the upper 90°s. In fact, their first meet had exclusively hot weather with light smoke in the air. So, for districts to be the opposite, it had a symbolic effect.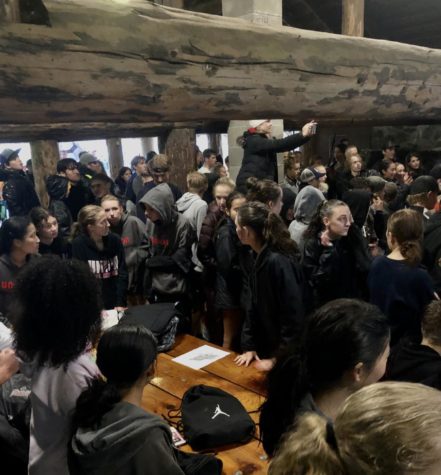 Sarah, before running the meet, said, "I'm pretty nervous, I'm glad it's raining, it's not super hot out. But, I've heard there are some hills on the course. So, not excited for that." The district course, held at Lewisville Park near Battle Ground, was nearly impossible to get a personal record (PR) on due to the hills and terrain. She exclaimed, "I'm more excited for regionals than this because the course isn't that bad."
On another note, runner Grayson claimed he was, "Pretty confident going into it. Hopefully, the team does well. We've got regionals next week if we qualify. The top 21 go. So, we'll see what happens." The idea of regionals brings on a new level of competition, "I'm a little nervous to make it out of the region to make it to state. I've always been more of a track guy. But, I'm going to try and see what I've got in the 5k."
Regionals will be on the 28th of October. Cheer on our cross country team! Depending on how things go at Regionals, we might have to keep cheering as they head to State.
The scores for Districts are as follows:
Varsity Boys:
Camas 19
Battle Ground 46
Union 69
Skyview 86
Varsity Girls:
Camas 32
Union 44
Skyview 54
Battle Ground 105
JV Boys:
Union 30
Camas 43
Skyview 69
Battle Ground 94
JV Girls:
Camas 28
Union 29
Skyview 64