It's More Than Just a Trip
When Union's Chamber Orchestra and Percussion ensemble got accepted into the "Music For All National Festival" it was quite an accomplishment. The event is presented by Yamaha, a major brand name in music. The festival is exclusive, competitive, and filled with the best musical groups from around the United States. Applicants have to show the best of their talent to be accepted to the program and get to be critiqued by the best-esteemed musicians. Not only did they have some groundbreaking experiences, but they also performed their sets in elegant performance halls and grandiose theaters. And what better way to experience this, than in Indiana, all the way in the Midwest? 
Before the trip, the whole group was buzzing with excitement. After their send-off concert, all the musicians knew they were so close to this anticipated trip, that it would most likely be the school trip of their 22-23 school year. The energy compelled a great performance, and many individuals enjoyed the performance, "The percussion did really well, their last song, 'Thoughts On Heaven' I thought it sounded really nice." said Leo, a chamber orchestra member.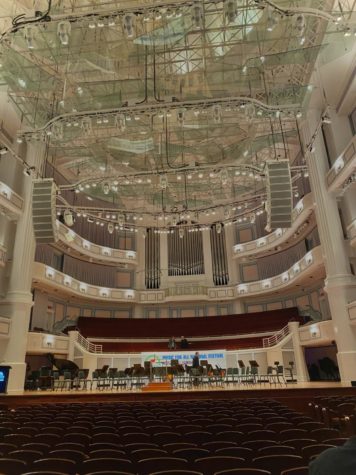 Similarly, Joshua said, "Chamber did amazing and I really loved Toban." Behind the stage, percussionist Evelyn said, "It was pretty good, the team really pulled it together, as a team we just vibe so well." Chamber member David commented, "Tonight's concert was pretty good, I loved watching percussion and the last piece was really nice. For the trip, I'm just really excited to play and listen to others.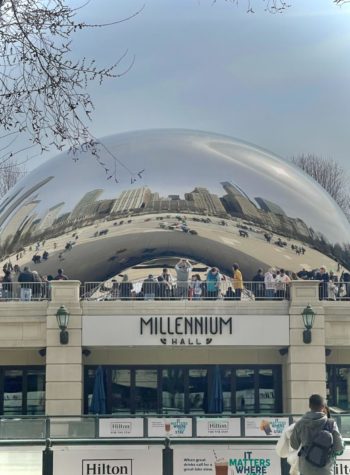 And just exploring around Chicago!" The trip was four days long, with a bunch of teenagers crammed into planes, buses, and hotels. As a musical instructor, Mr. Morrell coordinated a lot of factors but dealt with them gracefully. During the send-off performance, he said, "I thought it was a lot of fun. It was unique to have chamber orchestra and percussion ensemble perform. This was our 7th or 8th performance [for the percussion ensemble] and it was a smooth and easy performance tonight. I am very excited about [the 'Music For All National Festival' trip]." The directors were taking on a massive task. "It's been looming in a good and bad way. There've been a ton of details that we've been taking care of, Mr. Siess and I behind the scenes and we've been trying to figure it out." Glad to say, the trip was a success with many experiences to enjoy.
Some students have some interesting stories: percussionist Robert shared, "My favorite part of the trip was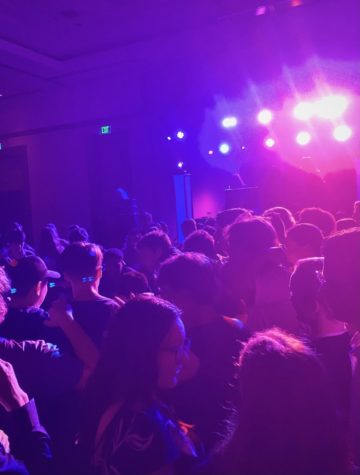 getting to vibe at the museum and just enjoying spending time with the ensemble. I learned a lot about how important music education is to people in other states. Also, the funniest part was when I got hit on by a guy during the rave." For context, there was a student social that turned out to be a dance. Percussionist Max, like many of his peers, found, "My favorite part was witnessing the BEAN in all its glory." The trip included an hour of roaming around Chicago, which led to many teens swarming the bean like a pack of bees. Another Chamber Orchestra member, Katrina added, "One of our viola guys cut his hair in the hotel bathroom with safety scissors, he got $40 out of it. And it didn't turn out that bad actually, just Siess now called him the 'mullet man.'" The hotels were extremely nice, especially the JW Marriott with its splendid views.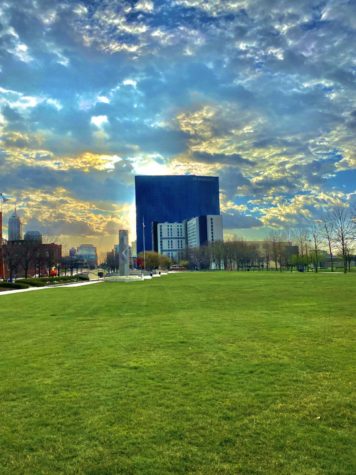 Percussionist Ben had shared, "I'd say my favorite part of the trip was when we all gathered into one room and played Mario Kart together, it was really fun and it reinforced the group dynamic we have with each other!" Outside of the hotel, there were several incidents. Mr. Siess, the orchestra director, had an out-of-pocket stardom moment with the Blue Man Group. Let's just say, the students went wild when he got married off to a random audience member, veil, flowers, and all. It's truly a tragedy that pictures were prohibited during the performance. But, all the traveling teens had to say that Mr. Siess got some serious respect after it. Kaytie, another percussionist, praised her experience. "My favorite parts were watching Siess onstage at Blue Man Group and spontaneously going to that random museum. I also really liked the Chicago cultural center library place; it was really pretty!"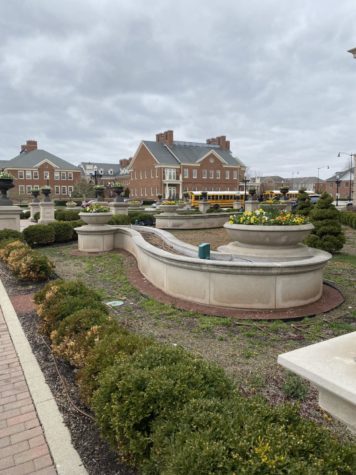 The experience was also filled with character-building, percussionist Evelyn shared. "Here's something I took away: opportunity is all around you if you're willing to find it. Sometimes you have to be put in the middle of a certain setting to realize this, but there's actually already so much around you on a day-to-day basis." In addition, orchestra member Pearl shared, "Seeing such a big group of musicians in one place was really eye-opening." There were many other musical groups, and many of our musicians befriended students from Texas, California, Kentucky, and so much more. It's pretty special to see others from around the United States, all in one place just to experience music and have a lot of fun. Overall, the festival held immersive musical experiences, social events, and the grandeur of adventure and exploration.