A Choral Night
Hey Titans!! Did you make your way to Union's choir concert on the 20th? If not, here is a quick read of our favorite parts and a look backstage!
This concert was at 7 pm, right here in the Union Auditorium. The room was packed, with audience members arriving early to save the best seats. Here on the program were a multitude of Union's choirs: Union's Combined Treble Choirs, the Treble Choir, the Women's Ensemble, the Men's ensemble, the Symphonic Treble Choir, and the Concert Choir.
Directed by Joel Karn and accompanied by Lori Collier, the concert gave a window into the lives of many of the students, who have practiced diligently every morning to give the audience a wonderful show.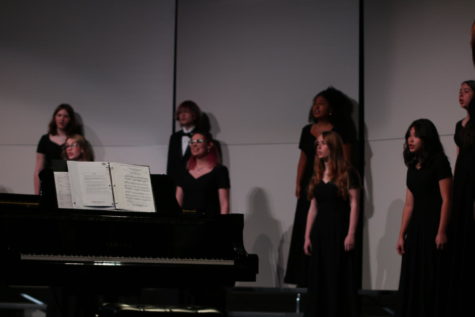 After the concert, I got to sit down with a few of our own choir members. I spoke with Jacob Botello, a senior and a Tenor 1 member for the Concert, Chamber, and Tenor/Bass (Men's) ensembles, and Tryana Thompson, a senior and an Alto 2 of the Concert and Women's ensembles. 
They each described their favorite parts. Jacob exclaimed, "I think my favorite songs were Ad Astra and Bright Morning Stars." On the other hand, Tryana really liked Yonder Come Day.
All of these melodies were sung by the concert choir.  
Ad Astra is short for the phrase "Ad Astra per Aspera," which means "to the stars through difficulties." This piece, whose title is the state motto of Kansas, was beautifully and sweetly sung by the concert choir, radiating the words "While you may be weary, just know you're not alone." 
Bright Morning Stars, arranged by Shawn Kirchner, is an Appalachian folk song. With a solo from Sage Vu, this rendition combined the character of a beautiful piano melody with soft vocals.
Yonder Come Day is another folk song.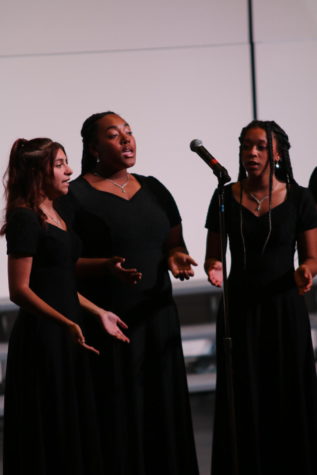 When asked about his experiences at this concert, Jacob stated,"[My experience was] very good, we got a standing ovation, a lot of claps, a lot of smiles, a little bit of tears here and there." 
Tryana noted her experience in choir as well. "It was pretty good. We had prepared a lot of songs and we were able to get them all done in time which was impressive. I enjoyed getting to listen to all the other choirs sing cause usually we don't get to hear them sing, so to be able to listen to the freshmen for the first time was pretty cool."
"[My experience in choir overall] was pretty good!" Tryana concluded. "I started in elementary school choir and I've done it ever since. So I would say, I recommend other people to join, and you don't have to be a good singer to join."
"I would definitely recommend other people to join, I actively try to recruit people in," Jacob added.
So there you have it! All recordings of this concert are up and running on YouTube, and their next concert will be sometime in December, so stay tuned and go check it out!