Football Update
The Union Varsity Football team is 2/3rds into their season and they are in full swing!
With two wins under their belt, I got to sit down with our head football coach, Coach Roe, and two Senior Varsity players, Conner McChesney, and Joe Merlino. As I sat down with Coach Roe, he was happy to answer my questions. When asked about how he feels about the season so far he said: "I like where we are as a team right now, there is a ton of trust and fellowship. It's a very tight group who have overcome some early-season obstacles. We are looking forward to the final third of our final season when we begin league play."
As the season goes on, there are going to be new goals and new things to focus on. When asked, "What are your goals for the rest of the season?" Coach Roe said, "Continue to build, win a league championship." I asked him, "What are you focusing on improving with the team?" He said, "I think we are always trying to get better. We are focusing on communication, as the weather changes we have to have the plan to communicate better. And just continue to focus on the little details." Overall Coach Roe is very positive about the remaining season.
Every team has its strengths, so I asked, "What do you think the team's strengths are?" He said, "From a football standpoint strengths are playing the run and running with the ball. I think our best strength is our tightness as a group." Next, I sat down with Conner, the leader of the offensive line playing center, and next to him is Joe playing guard. I asked them both, from their perspective, what has been the highlight of the season. Conner said, "Our comeback at Prairie. We sort of found ourselves as a team and we started to bond and trust more."Joe added, "Getting that first win over Prairie because there was a lot of tension and it was nice to win that."
We all know the game at Coeur d'Alene, the second win of the season, and I wanted to know how it felt to win that game. It was a seven-hour bus ride there, so it had to feel worth it, right? Well, this is what they said: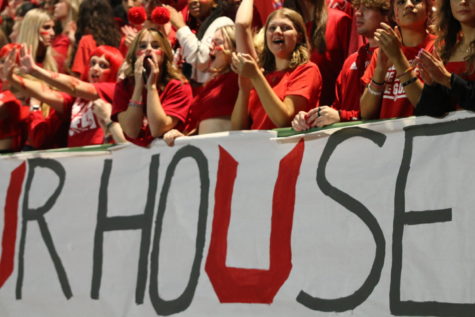 Conner: "It felt really good".
Joe: "It would have been awful if we came back without a win".
Then I thought, why not get a little more info about what they think about things from their perspective? So I asked them, what their favorite part of the season has been so far.
Conner: "Team camp was really fun. The first three games were hard but we fixed some things and it's been good"
Joe: "Riding to Coeur d'Alene with the guys was fun, and team camp we went to Eastern Washington and it was super fun".
With League Play starting, Coach Roe is hoping for a good push from the guys to make the playoffs. (There is League play, and Non-League play. League play is when you have teams near you. And Non-League play is when you play teams from out of the area, like Stanwood last week.) We have 3 games left until the playoffs! Our school is always reaching out to come and get our students to support Union. Even coming to one game is awesome, but it can be for any sport!
10/14, there is a game against Battleground
10/21, there is a game against Camas
10/28, there is a game against Skyview
Come out and show your support! GO TITANS!