A summer extension was recently granted to the Evergreen School District. However, while kids enjoyed the extra days off, the educators were on strike in order to implement change in the educational system. Negotiations went on for more than two weeks – the foundation of our community and the future generation in concern. The teachers' picket lines and other shows of solidarity were commonplace in many local neighborhoods. To further understand why this issue was controversial, influential, and essential, we interviewed a variety of teachers on strike. 
The Strike has had notable effects on everyone, especially teachers and schools. Ms. Plitt, an elementary teacher described, "It's like a black cloud over the start of the school year." And for the whole district, it's a relatable thought. For background information, Mr. Morrell, a high school teacher supplied, "Every three years the teachers Union renews their contract with the school district. So, there's a lot of language in there that either gets updated or amended. This past year the teachers Union has been trying to negotiate with the school district since March." The back and forth has led to the teachers supporting the Union's decision to strike.
 In 2018, the Evergreen Education Association went on strike in order to seek equitable compensation. However, for the 2023 walkout, Evergreen Education Association instructors were calling for additional help for children with special needs, more planning time for educators, and more compensation. In relation, Ms. Plitt said, 
"I think for me, that one of the biggest issues is that the district has changed the way they support special education students with something called neighborhood schools. And we feel like there's not enough support staff to provide for the special education students that we're serving in the general education classroom. That's the reason I'm here." 
With this in mind, instructors have also been experiencing sub shortages, which means that primary schools, in particular, do not have enough substitutes to cover courses.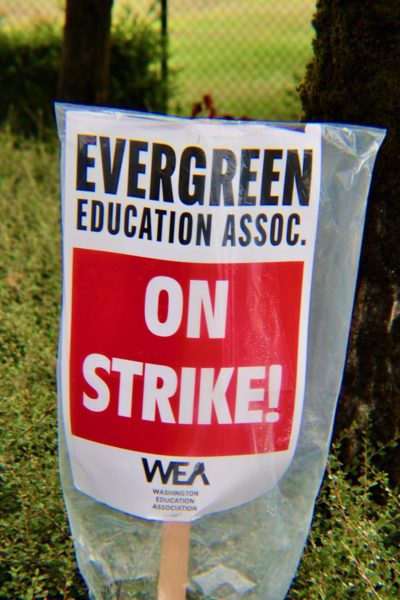 So when one class requires a teacher, they call a music teacher to fill, but then their class gets canceled, as well as PE, and the library, and even associate principals have had to cover classes. When there is no absolutely one available to assist in a teacher's class, they must create "Split lists" and separate students into many different classes. Not only does this interfere with learning, but it is also unfair to both students and teachers.
However, the strike was a full-time job for teachers. To begin, the teachers spent the majority of their strike days walking from 9 a.m. to 3 p.m. This meant that some were walking up to the upside of 12 miles a day.  Ms. Mylei Carlson gave further details. "We get together in the morning, and some of us arrive early, but we set up by 9 a.m. We also put up our camp, complete with tents, sign-in desks, and food. We've also been transporting folks to and from parking lots and restrooms. Despite the fact that we're in the middle of nowhere, everyone has contributed to making our location as pleasant as possible." The lines were filled with a sea of red shirts, signs, music, and lots of walking shoes. In trend, Mr. Morrell, a high school teacher, detailed, "We start our mornings meeting and hearing any sort of updates and get to walking around and connecting with teachers, chatting with people. But making it clear that we are out here fighting for our Union rights as Union members." There were plenty of issues being touched on, and the walking only strengthened the Union's resolve. Ms. Mylei Carlson later continued, 
"Additionally, we have some teachers who will play music, and we have some activities, all in an effort to keep things lively. Following that, there is a lot of walking and waving at people who honk at us. Then, at the end of the day, we disassemble it."  The setup was a small but big part of their success in this Strike, and it reflected the strong leadership presented by the teachers. 
But, at the end of the day, being in protest isn't a walk in the park. Teachers had to pause on teaching.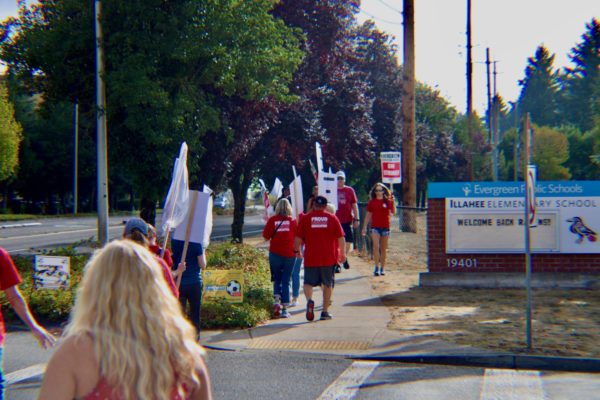 Ms. Plitt supplied, "I think it's draining, both emotionally and physically. There are just a lot of emotions, no one wants to be doing this. Everyone wants to be teaching." However, our teachers remained strong throughout the whole process. Several students came to support the teachers. Illahee teacher Ms. Molina described several ways that students used to support our teachers. "Any kind of activism is good activism, making your voice heard, coming (and) signing up for the guest sign-up sheets at picket lines is helpful." 
Eventually, the contract settled and school began after 8 days of Striking. This included a wage increase and more special education support for educators. This just goes to show the importance of the educational system in communities and society as a whole. Remember this the next time you don't want to do your homework.